Sprite wanted to inspire Vietnamese youth and promote their brand values, which matched the ones their target audience was preaching and practicing: Creativity, Individuality and Discovery. In order to do so, we decided to communicate this on their most valuable communication asset: the product itself. 
Sprite gave full control of its can look: it was the first time in SEA that a brand provided this kind of opportunity, with no rules whatsoever, for their consumers to express themselves.
Also, it was important the collaboration that happened between Sprite and Google, since their partnership launched the campaign into a complete different level that was showcased in the results which we just got from the final audit (August 2015). The value of this partnership, with Google's tools and Ad Network, not only helped Sprite reached its goals, but also celebrates a new era of digital marketing available for all brands.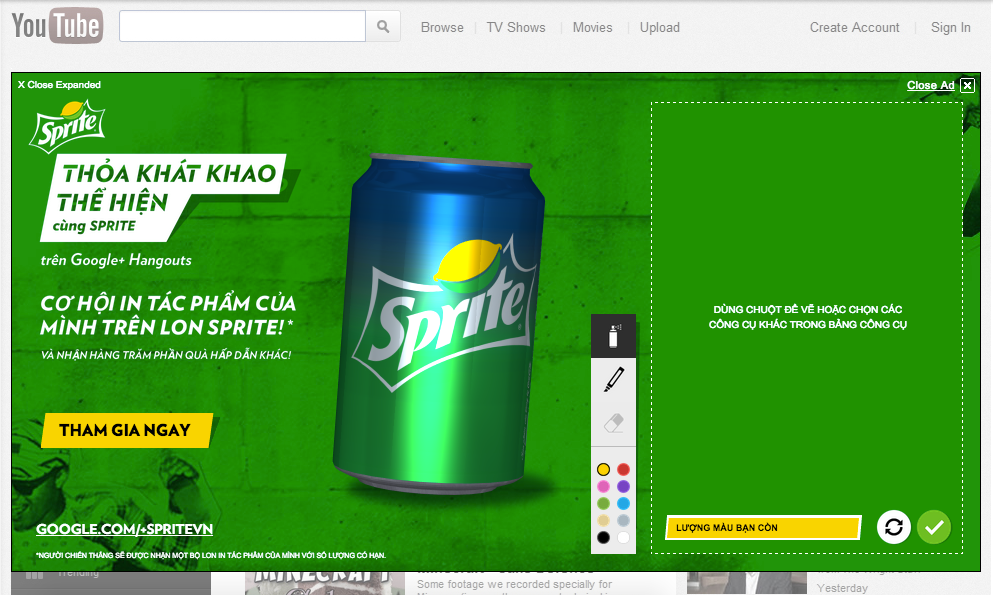 And we pulled it all together in this case study:
made with 

♥ by
 Google + Phibious Vietnam + The Coca-Cola Company
Executive Director: Nicole Marold
Senior Account Executive (Google): Uyen Tran
Senior Account Executive (Coca-Cola): Van Hong
Account + Project Manager: Son Troung
Creative Group Head: Daniela Varela
Designers: Van Do, Truc Dinh
Copywriter: Daniela Varela
G+ Plus Development: Google
Web Production (Youtube, DoubleClick Media Rich Media): Toaster 
TV Production: Yeti Films
Case Production Director: Matias Legaria