I write. A lot.
I'm a hands-on creative with a sweet tooth for strategy. Whatever challenge is there to tackle, I will find a way to nail it. How... you may wonder. Simple: I have a passion for people.
By understanding people, we will be able to create the best experience, brand or product. 

Either working independently or while leading a team, I make sure to add value to the brands, companies and people I work with. 
I'm a polyglot and I'm crazy about languages. Understanding cultural practices ingrained in different communities has transformed me into an ethnology enthusiast who seeks for authentic insights and engaging ways to express them. Or a truly international creative director, if you prefer. 
I love words, data & films. I believe they connect us. You can read all about it in my published chapter "
Netflix at the Nexus
" (Peter Lang Publishing, 2019).
When I'm not working, I dance lindy hop and box. I'm convinced comms should be the same as a great jab-cross: powerful and precise. 
I teach. I cook. I travel. And of course, you guessed right... I write. 
You can find me obsessively writing in a Brooklyn café, blogging about my travels on 
Bites & Kms
 &
LatidoBeat
 where I tell stories about people and places through food.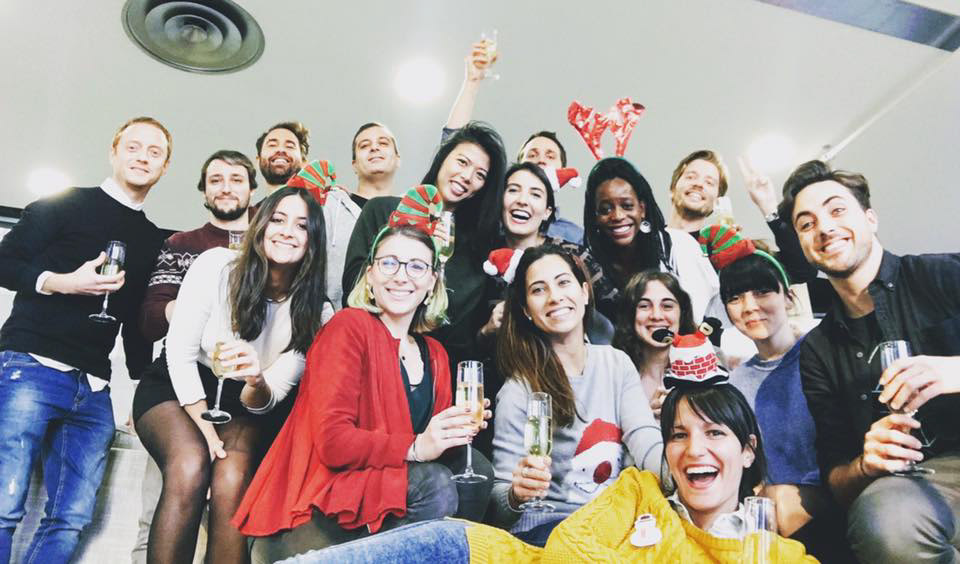 I kicked it off in McCann Montevideo as a Creative Copywriter. A couple of years and nautical miles later, Phibious Vietnam appointed me as Creative Group Head for Google, launching its first consumer-facing campaign. 

In 2015 I moved to Stockholm to study my MA in Communications and Cultural Analysis.
My final research landed me a book deal. Back in Asia, Ogilvy & Mather Singapore brought me onboard as an Associate Creative Director for Pond's (Unilever) to help reshape its global comms platform.

I joined Orchid Creation as a Group Creative Director, first in Barcelona and later on in New York City, to expand its strategic and storytelling capabilities, growing the company's presence in the US and Americas. I worked as a Freelance Associate Creative Director, all things Spanish and biologics, with McCann Health New York, focusing on the Hispanic community in the US.
Currently, I am a Creative Director in
TBWA\Chiat\Day New York
always eager to create the next cultural disruption.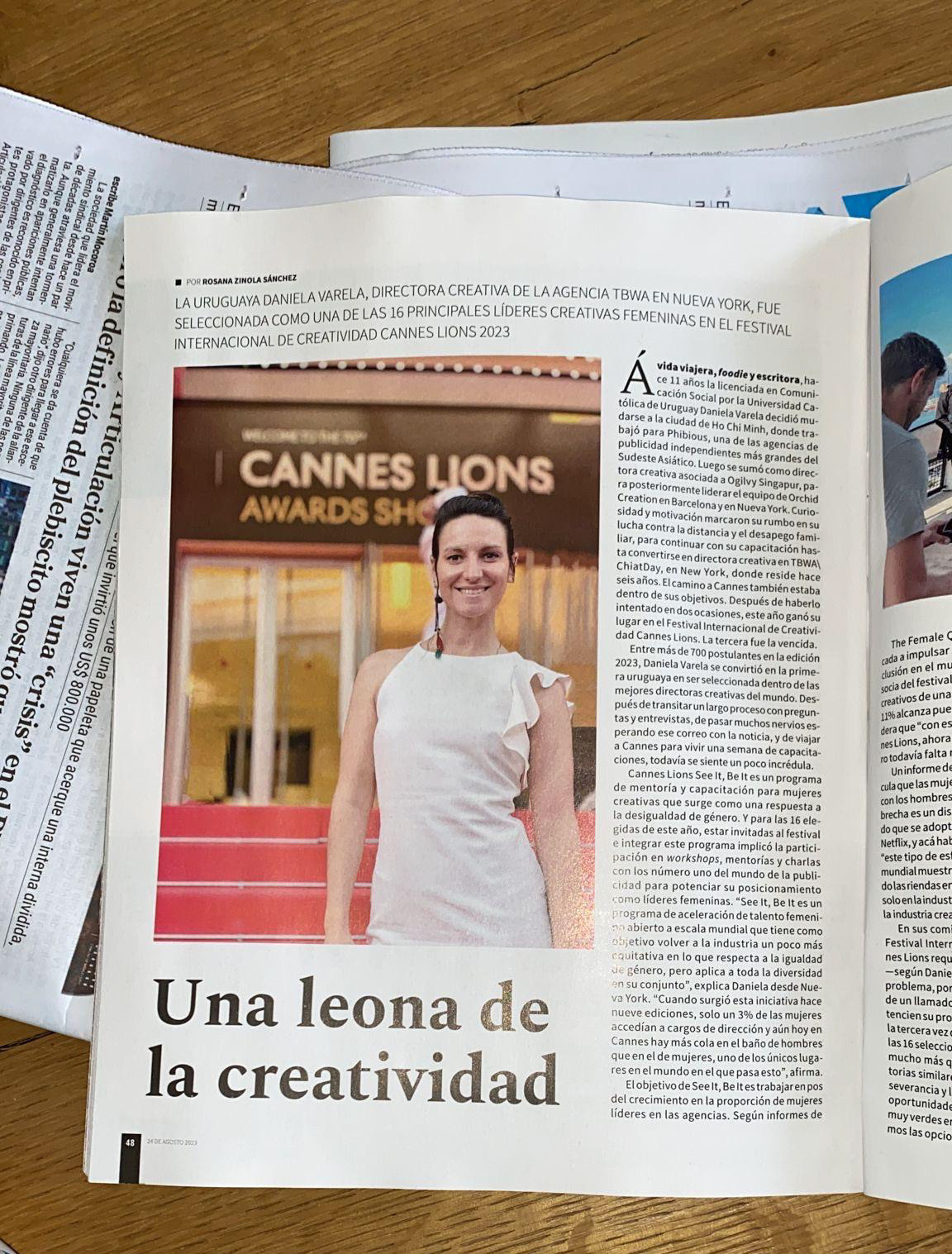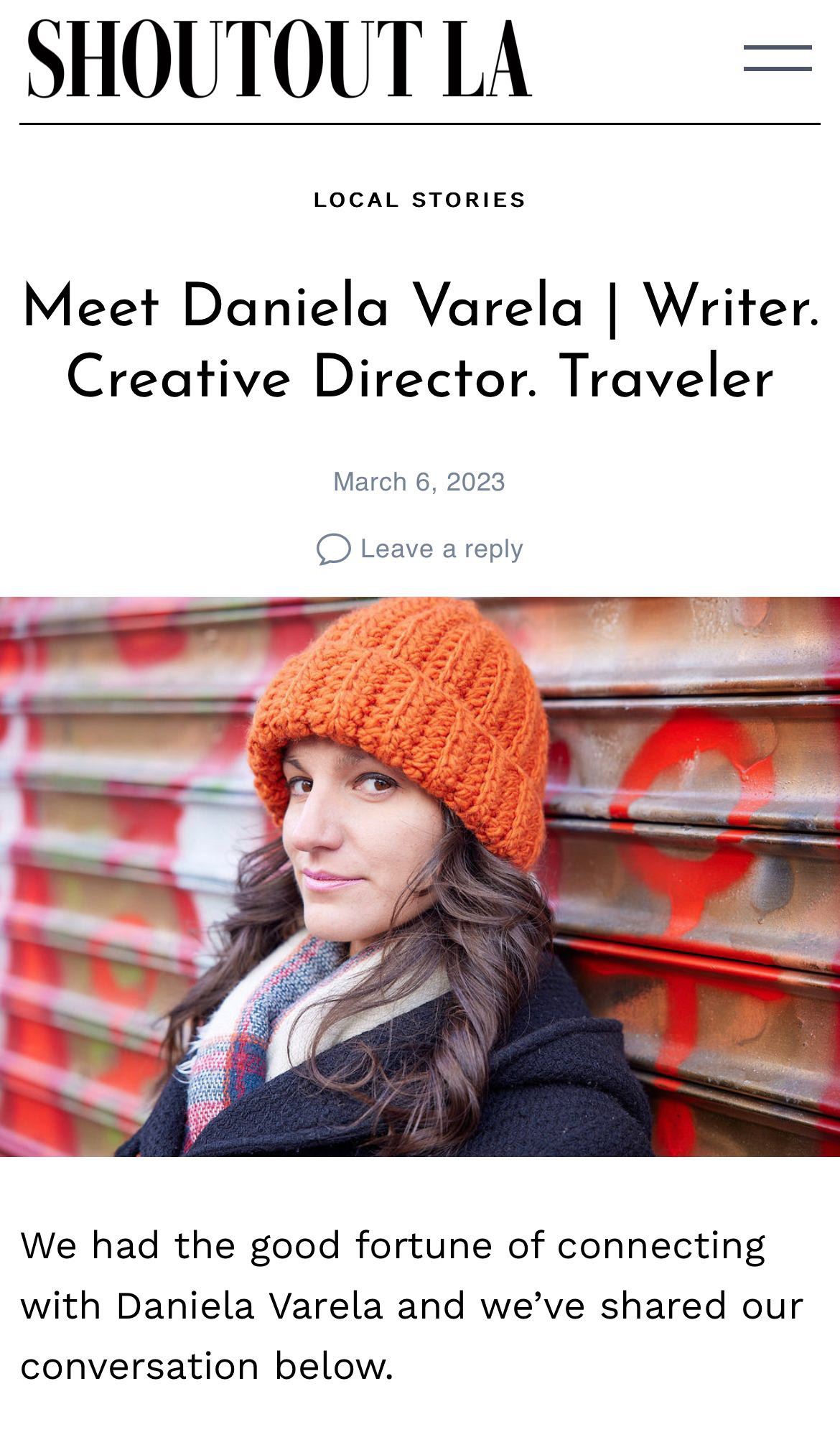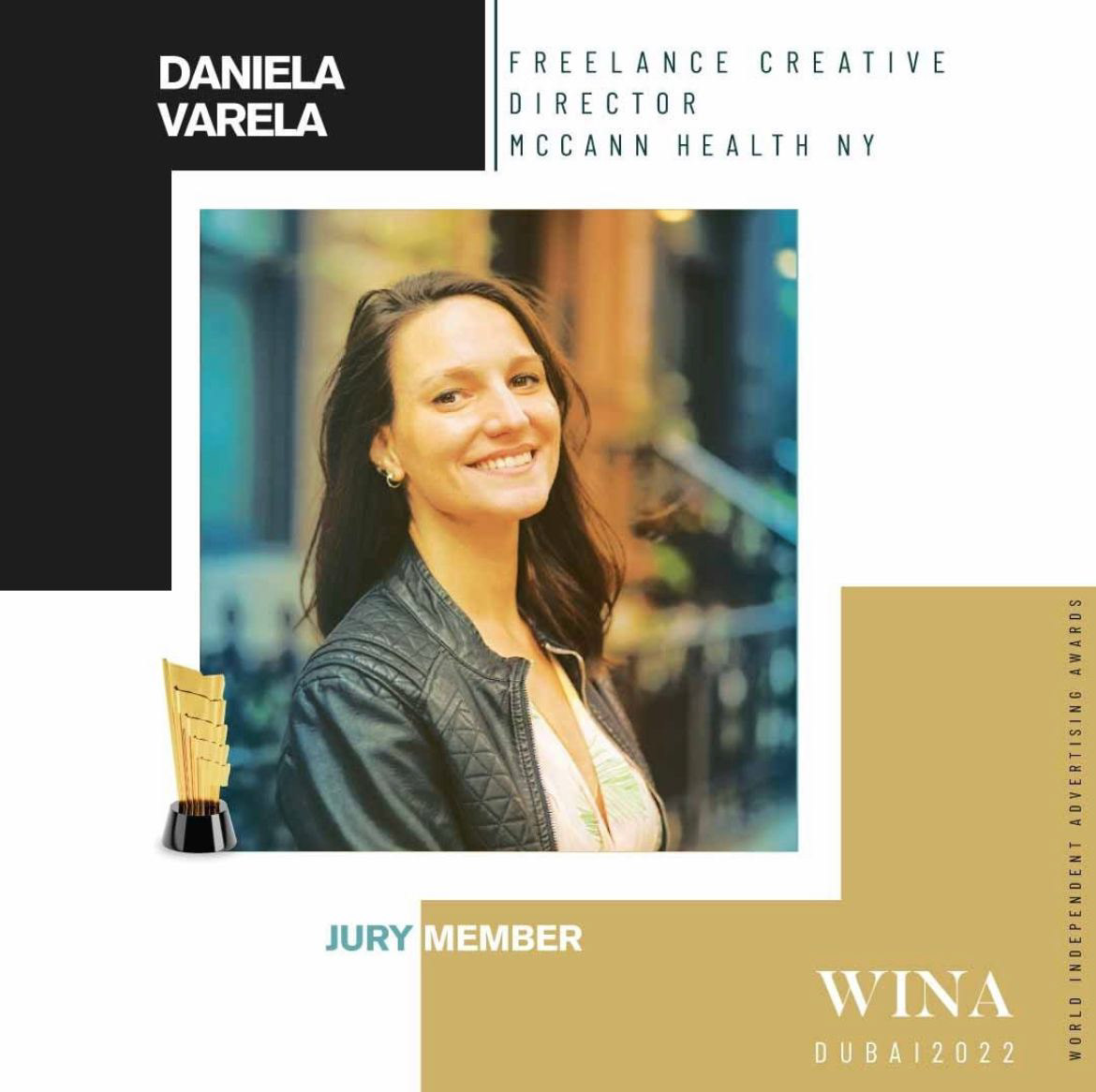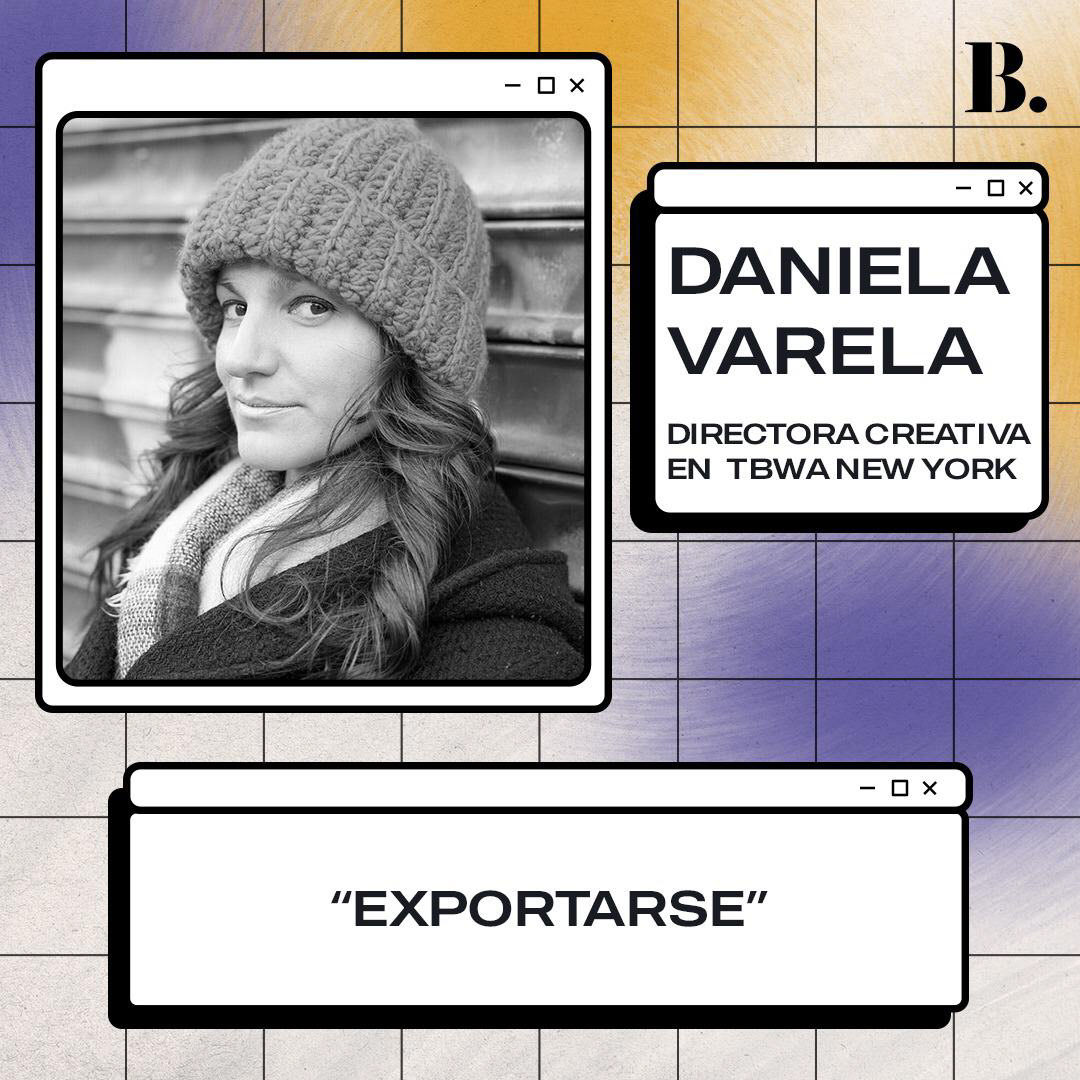 A
TEDx talk
, a
monthly column
on the most read digital portal in Uruguay, and some interviews here and there make my parents proud. I lead 
PublicitariasORG Uruguay edition
, mentored at
 LIA Global Coaching Academy
 and judged some festivals: NYFA, WINA, Annual, SIA, ADC The One Club of Creativity, Saniss, Adforum and Indigo Awards. 
I've been selected by Cannes Lions as
1 of 16 female rising leaders
of the Industry in 2023 out of almost 1000 candidates worldwide to participate in 
See It Be It
.
This is Cannes' talent accelerator program with the mission to achieve equal gender representation of creative directors and leaders across the Global Industry. 
My work has been recognized by Cannes Lions, Campaign Asia, Effie Awards, Cámara de Anunciantes del Uruguay and has been featured in Ads of the World, Google I/O, The New York Times, LatinSpots, AdWeek, Advertising Age, Campaign Asia, AdLatina and much more.
Being from Uruguay always implies being also the first at something. 
"Oh, you're the first Uruguayan I know" people usually tell me, followed by "Is Luis Suarez the famous football player from Uruguay?", "Your president drives his own car, right?"
I have the honor to be the
only Uruguayan Female Creative Director in Madison Avenue. 
And I want to be the first of many. We are a small country, but giant in potential. 
Uruguay thrives in creativity and pioneers in progressive and inclusive approaches to business, lifestyle and culture. With my work, passion and "Uruguayan-ness" I'm in a worldwide crusade to make sure the world knows about it. 
Creative Director - TBWA\Chiat\Day New York 
2022-Present - 
Main Clients: The Health Collective, Moderna, AstraZeneca, Merck, Moderna, AmGen, Black Health Matters.
Freelance Creative Director & Brand Strategist - New York
2019-2021 - 
Main Clients: East of Normal, Cubocc, McCann Health -AstraZeneca, Janssen-, FÓRMULA, Won75.
Group Creative Director - Orchid Creation New York 
2018-2019 - 
Main Clients: Google US (YouTube, Android, Google Play), Benefit Cosmetics, Kai OS.
Creative Director - Orchid Creation Barcelona
2017-2018 - 
Main Clients: Coca-Cola Europe (Honest Organic, Smartwater, AdeZ, Fuze Tea, Aquarius) 
Associate Creative Director - Ogilvy & Mather Singapore
2016-2017 - 
Main Clients: Unilever (Pond's, Dove, Comfort), Electrolux
Creative Group Head - Phibious Group Vietnam
2014-2015 - 
Main Clients: Cola- Cola (Cola-Cola, Sprite) Google (Search, G App, YouTube, thinkwithgoogle) 
Creative Content Writer - Phibious Group Vietnam
2014-2015 - 
Main Clients: Cola- Cola (Cola-Cola, Sprite) Google (Search, G App, YouTube, thinkwithgoogle)
Senior Copywriter - McCann Montevideo 
2013-2014 - 
Main Clients: Cola- Cola (Cola-Cola, Sprite, Fanta) L'Oreal, Maybelline, General Motors, Orquesta Filármonica
Copywriter & Project Manager - IdeasLab Uruguay
2013 - 
Main Clients: Grupo Parisien Fashion (Parisien, Indian), AmBev (Stella Artois), Bayer (Yaz, Yazmin, Tabcim)
Freelance Translator - TransPerfect Solutions 
2013-2015 - 
Main Client: Akzo Nobel (Inca, Alba)
Creative and Communications Theory Professor - Universidad Católica Del Uruguay 
2012-2014
Creative Copywriter - Young & Rubicam Uruguay
2011 - 
Main Clients: BSE, Ministerio de Turismo, TCC